Mar 14, 2023 | By Samantha Peterson
Kateryna Bystrytska has a passion for storytelling. A ten-year career in journalism and public relations eventually led her from her home in Ukraine to Montclair State University in New Jersey where she began pursuing a master's degree in Public and Organizational Relations. She became increasingly interested in political communication during her studies, but when Russia launched a full-scale invasion of Ukraine early in her final semester, it became difficult to concentrate on her work.
"When the war started, I was in shock, like all Ukrainians, even as I was far from home," said Kateryna. "I was graduating in May and planned to go home, apply for a Ph.D., and find a job to use my practical knowledge in something useful. I was convinced that I wanted to build a career in academics and focus on political and government communication. But the war changes everything - you think about your family's safety first, and all your plans become unimportant."
When Russia invaded Ukraine in late February 2022, the Smithsonian community sprang into action, activating long-cultivated networks to provide material and informational aid to Ukraine's cultural community. The Institution's expertise in cultural heritage rescue and its power to convene peer institutions proved vital to the immediate on-the-ground response, both in Ukraine and in bordering nations. As the war carried on, the Smithsonian's Office of International Relations (OIR), responsible for the people-to-people dimension of the Institution's global engagement, reached out to its own networks with a similar question in mind: how could our own expertise in fostering meaningful international exchange support the people of Ukraine?
An answer came not from the front line but from much closer to home: the Fulbright Program of the Department of State's Bureau of Educational and Cultural Affairs (ECA). A flagship initiative of ECA's public diplomacy mission, the Fulbright program supports academic, professional, and cultural exchanges for thousands of US and foreign scholars each year. The Smithsonian's Senior Diplomatic Advisor, Carolyn Glassman, reached out to the Fulbright office in early March 2022 to inquire about the status of US-Ukraine exchange programs following the start of the war; she learned that dozens of Ukrainian Fulbright scholars were nearing the end of their spring terms at American universities and were potentially unable to return safely home. Without summer placements at US institutions, which would normally require months of advanced planning and resourcing, the war was at risk of derailing their academic and professional plans.
Our response was swift: we reached out to the Ukrainian scholars directly and began matching them to Smithsonian museums and research centers based on their interests. We contacted funders with a passion for supporting the next generation of cultural professionals. Ultimately, the Institution was able to welcome four Ukrainian Fulbright scholars to the Institution for the summer of 2022, with fully funded academic and research appointments that complemented their courses of study. As the recipient of the Smithsonian Office of Educational Technology's Fellowship in Museum Practice, Kateryna was one of those scholars.
The shift from a structured academic course of study to one of an independent research fellowship was abrupt for Kateryna, but it proved rewarding. "It was a great experience to work with my own research," she said. "I had a great chance to communicate with a Smithsonian team who was supportive and explained a lot about how to work with your own research. I had a chance to use Smithsonian access to libraries and other tools for my work." Her project tapped into her professional communication background, her academic training, and her patriotic spirit by examining "the uses of emerging media in times of war, namely the procedures and affordances around social media platforms used for information warfare." Her final report focused on how people and government institutions used TikTok in communication about the Russian invasion. "In fact, it is the first time we can observe the role of such media as TikTok or Telegram in a full-scale war, and I hope that a deeper understanding of its specifics can help us deal with those media in future hybrid wars," said Kateryna. She hopes to build on her work in the future: "I got a chance to get research experience even in such a complicated time and better understand the topic I want to work on in the future. And at the same time, I believe that my research can be helpful for Ukraine, its victory in the information war, and the future hybrid wars we need to be prepared for."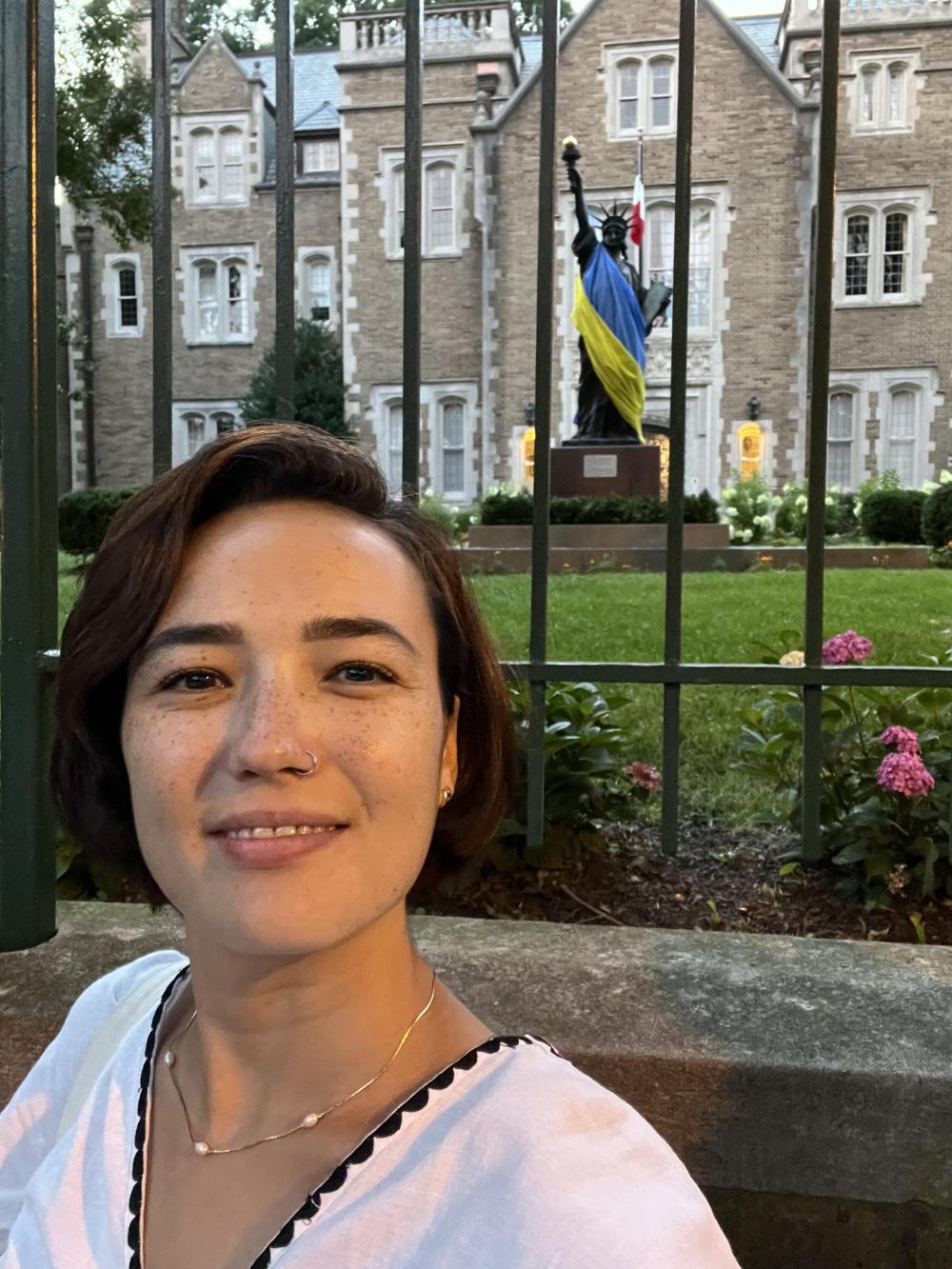 Nara Narimanova found herself in a similar situation as her second semester as a Fulbright scholar in the Master of Public Policy and Administration program at the University of Massachusetts Amherst drew to a close: her degree program required an internship, and she was nearly ready to finalize a commitment to a placement with a member of Congress when she learned of the Smithsonian's outreach to Fulbright. An internship with the Smithsonian's Cultural Rescue Initiative (SCRI), which had activated immediately to respond to the war in Ukraine, offered Nara an unparalleled opportunity to apply her academic learning to a practical purpose while contributing to the preservation of Ukrainian cultural heritage. Nara's passion for minority inclusion and her mastery of multiple languages spoken in the region were in turn valuable assets to the SCRI team's work.
"SCRI's advancement of mission objectives through research and public policy activities to protect cultural heritage and scientific collections threatened by the war in Ukraine allows me to help the Ukrainian community preserve their identities and history," said Nara. "The internship also provides me an opportunity to learn about the intersection of public policy, cultural policy, and cultural diplomacy." The experience has also allowed her to develop technical skills in platforms such as ArcGIS Pro, a geographic data software program, that the SCRI team uses to inventory cultural heritage data. "I've learned the differences between the disruption of cultural heritage such as fire, looting, and how observable or unobservable structural degradation may be documented by using satellite data and information from social media posts in Ukraine."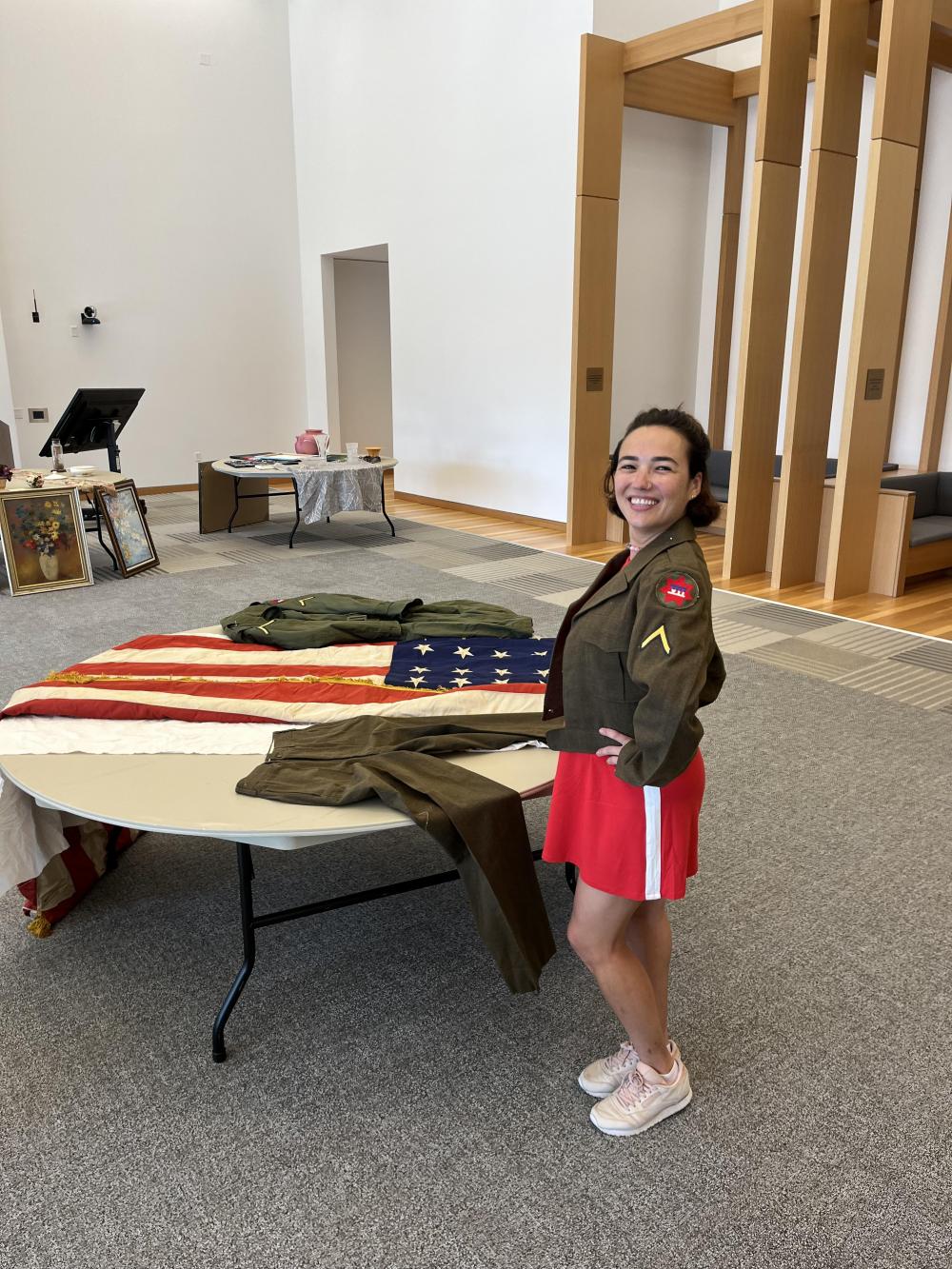 Both Kateryna and Nara intend to carry their Smithsonian experiences into the future. Nara's work with SCRI will continue through at least the summer of 2023: "protecting and reporting on the damage to the cultural heritage of Ukraine is very important work and not many organizations do this kind of work," she said, "because major international organizations are focused on technical or humanitarian help to Ukraine."
After her fellowship, Kateryna returned home to Ukraine and took on a role as a communications officer for an environmental group with a mission of "green reconstruction" for the country. "My long-term goal is to continue working on communication research and bringing more Ukrainian voices into academia." She is planning to return to the US for a doctoral degree to continue her research on information warfare and strategic communication: "I realize that I love this work, I see a lot of sense in it, and I hope my research in the future can help to protect democracy."